Welcome back to this special December issue of The Monthly with All That Geo by me, Cristina!
Since January 2021, I've been bringing you a four-part newsletter focused on the learning of mapping and data visualisation skills:
It is now time to shift gears and share more actionable content.
What's changing in the newsletter
The current sections are now coming to an end. But worry not! You can still access them on the website:
More exclusive resources to newsletter subscribers in 2022
From January 2022, I'll be debuting monthly tutorials on spatial analysis and data visualisation. These tutorials will guide you in creating a visualisation from a given dataset using a different tool each month.
Although I already have a few ideas lined up for these tutorials, I do want to correspond to your expectations in the best way possible and cater the contents to your needs.
Which tools are you planning to learn or get better at in 2022?
Your input will help me immensely. Click on the image to open this one-question survey:‌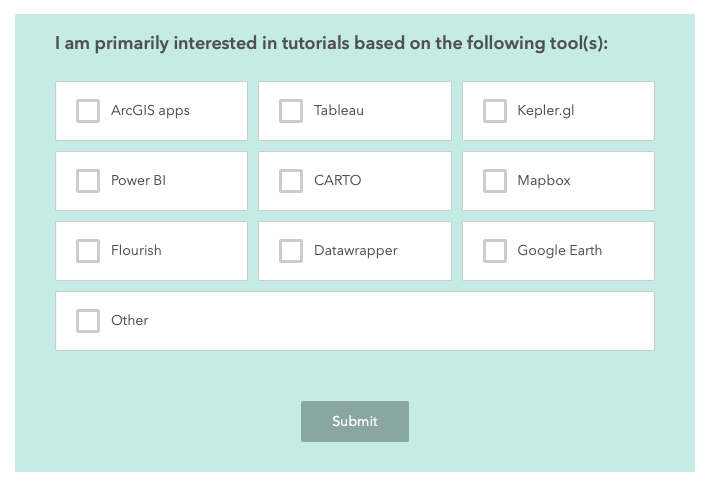 Frenchy's Virtual Home on ArcGIS Online
In November's issue of The Monthly with All That Geo, I mentioned I'd be closing the year by sharing a pet project with you. So let me introduce you to Frenchy's Virtual Home:‌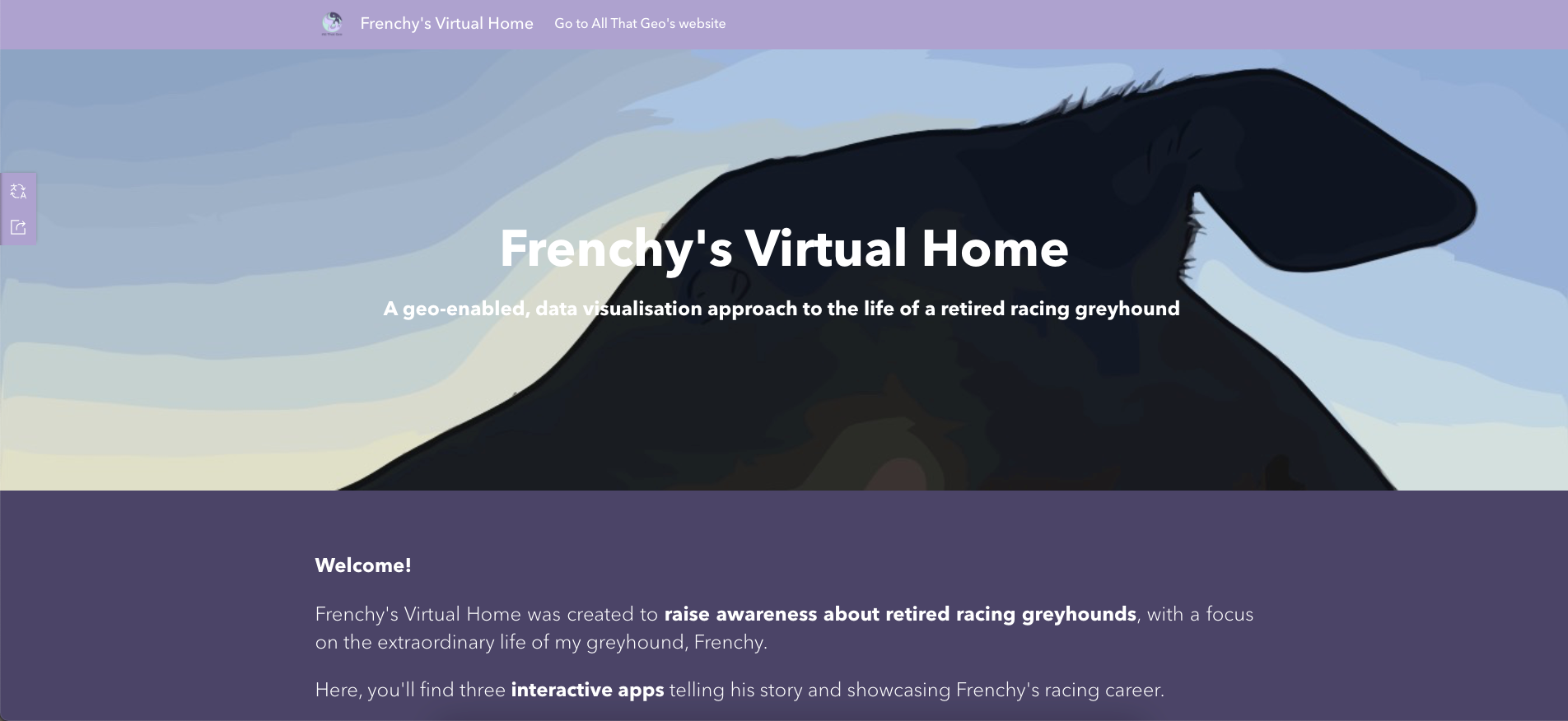 Who's Frenchy, and why build a virtual home for him?
You've heard about my dog, Frenchy, in the Frenchy's Tip section of the newsletter. Frenchy is an eight-year-old retired racing greyhound from Australia.
Over time, I realised there was enough life-related data on him for me to work with. I wanted to tell his story from a data visualisation point of view.
Although his racing data (spanning over a two and a half-year period) was used to create said visualisations, I must clarify this is not an endorsement of the racing industry. But it is still part of Frenchy's life, and this is my way of acknowledging it.
What exactly is this "virtual home"?
Frenchy's Virtual Home is an Esri's ArcGIS Hub Site that sits on ArcGIS Online. And at this stage, the site includes: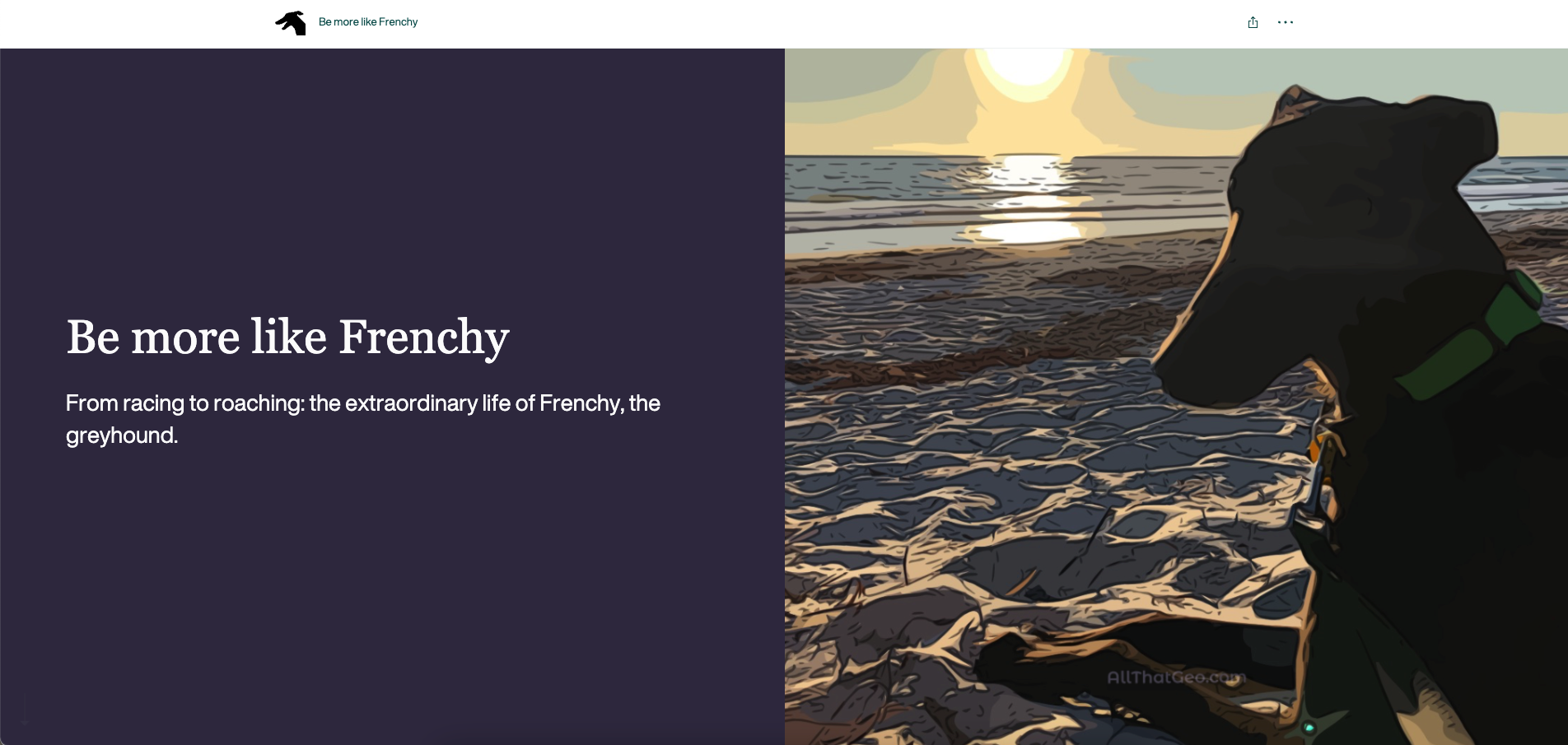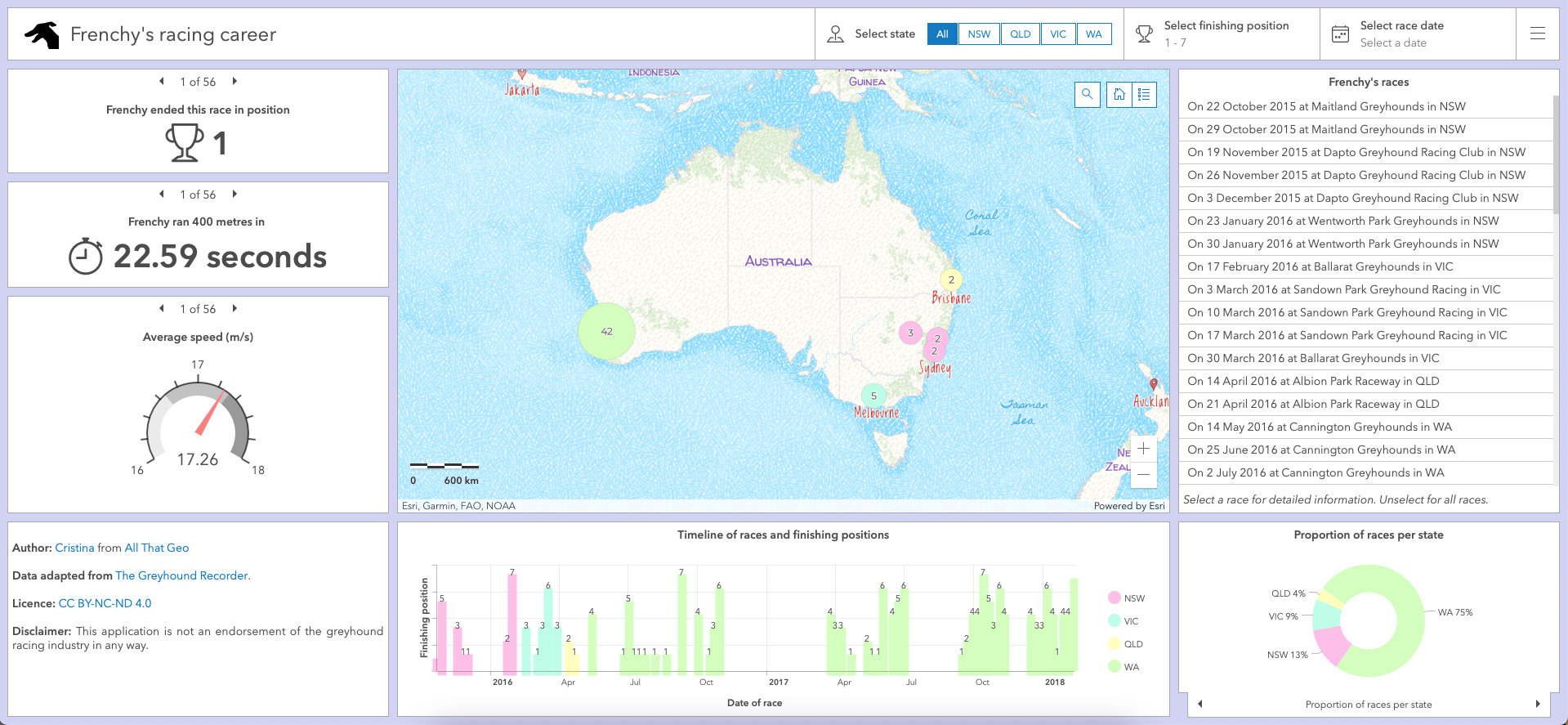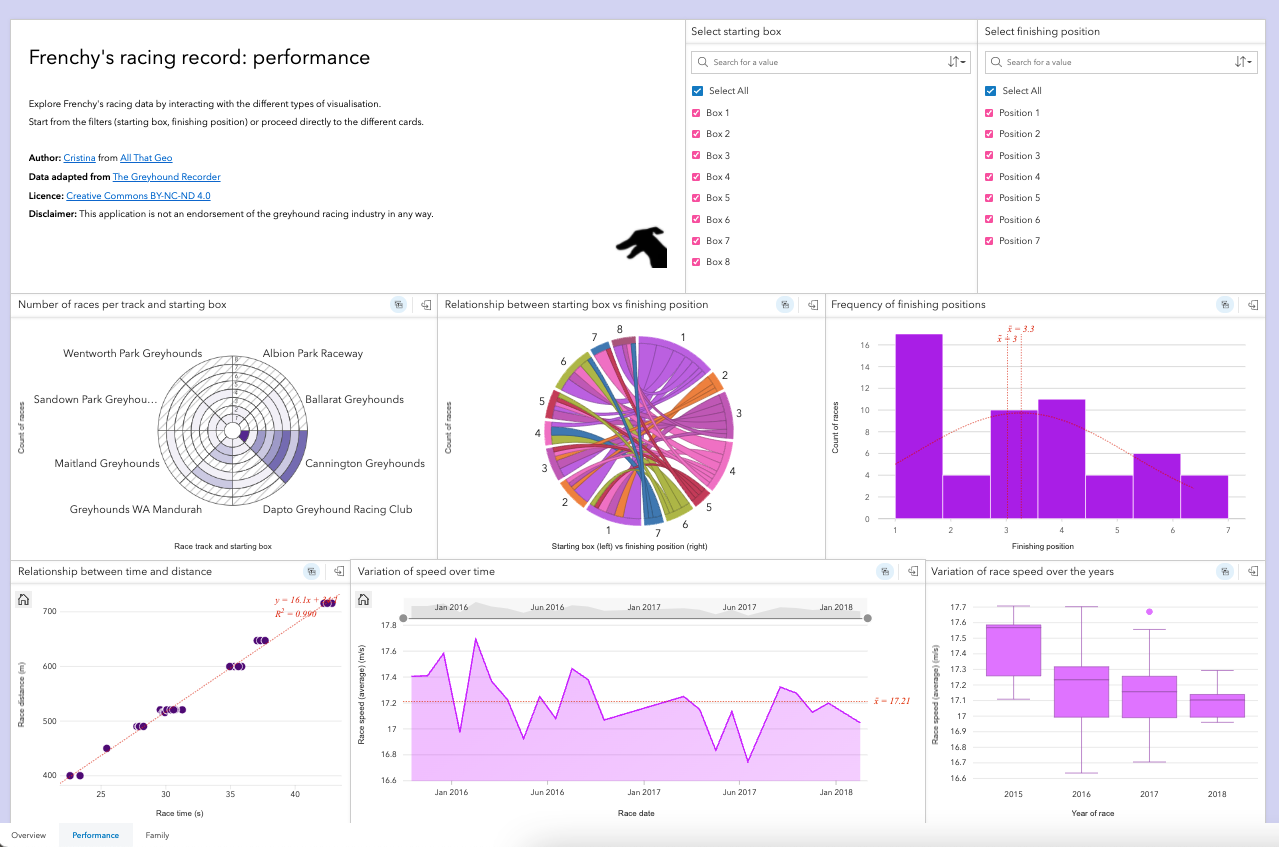 Why should I visit Frenchy's Virtual Home?
Because Frenchy is the best dog, and you want to meet him!
Now, seriously. Other than getting to know more about retired racing greyhounds, you'll see an example of the ArcGIS ecosystem of apps in action. It can also trigger you to start a project or give you new ideas for something you're currently working on.
Now I want to build something similar for my project! How can I do it?
Well, you're in luck. January 2022's issue of The Monthly with All That Geo will feature the workflow I followed when building Frenchy's Virtual Home with ArcGIS Online.
In the meantime, should you have any questions or feedback on Frenchy's Virtual Home, feel free to reply to this email.‌
---
‌That's all for now. I hope you get the most value out of this newsletter. If you believe this newsletter might interest someone you know, suggest a visit to www.allthatgeo.com or forward this email.
See you next year!
Take care and keep learning,
P.S. Are you looking for the contents reserved for members of All That Geo? First, log in to your existing free member account. Then, enter your email (the one you used to subscribe to this newsletter), and that's it! No password is required.