Welcome back to The Monthly with All That Geo by me, Cristina. Each month I bring you a new learning experience on geospatial data visualisation, analysis and storytelling.
In this issue:
Where are the nearest OBGYN emergency rooms and maternity wards?
---
🤰Where are the nearest OBGYN emergency rooms and maternity wards?
If you're in Portugal, you're probably aware of the recent constraints in access to obstetric emergency rooms.
If you're somewhere else, I can sum up the situation by saying that the shortage of available doctors in the public sector has led to service disruption across the country. As a result, pregnant women would go to an emergency room only to find them closed and have to go elsewhere, losing vital time in the process.
The Portuguese health national service has since published a list of obstetric and gynaecological emergency rooms/maternity wards. That list includes addresses, contact numbers and opening times.
That got me thinking about access to obstetric emergency rooms while on vacation (it's August, after all 🏖).
What if I mapped those locations and created an app? Pregnant women can find the nearest emergency rooms wherever they are in the country (opening times are not considered at this stage).
So, in this month's tutorial, I'm sharing how I used Web AppBuilder to create an app to find the nearest emergency room to any given point. Here's the high-level workflow I followed:
Choose the tool: ArcGIS Web AppBuilder.
Prepare the data: Extract the data from the source and add it to ArcGIS Online.
Create a visualisation: Configure Theme, Map, Attribute and two Widgets: Near me (including routing service) and About.
Share your work: Preview the app in different screen sizes and publish it for public access.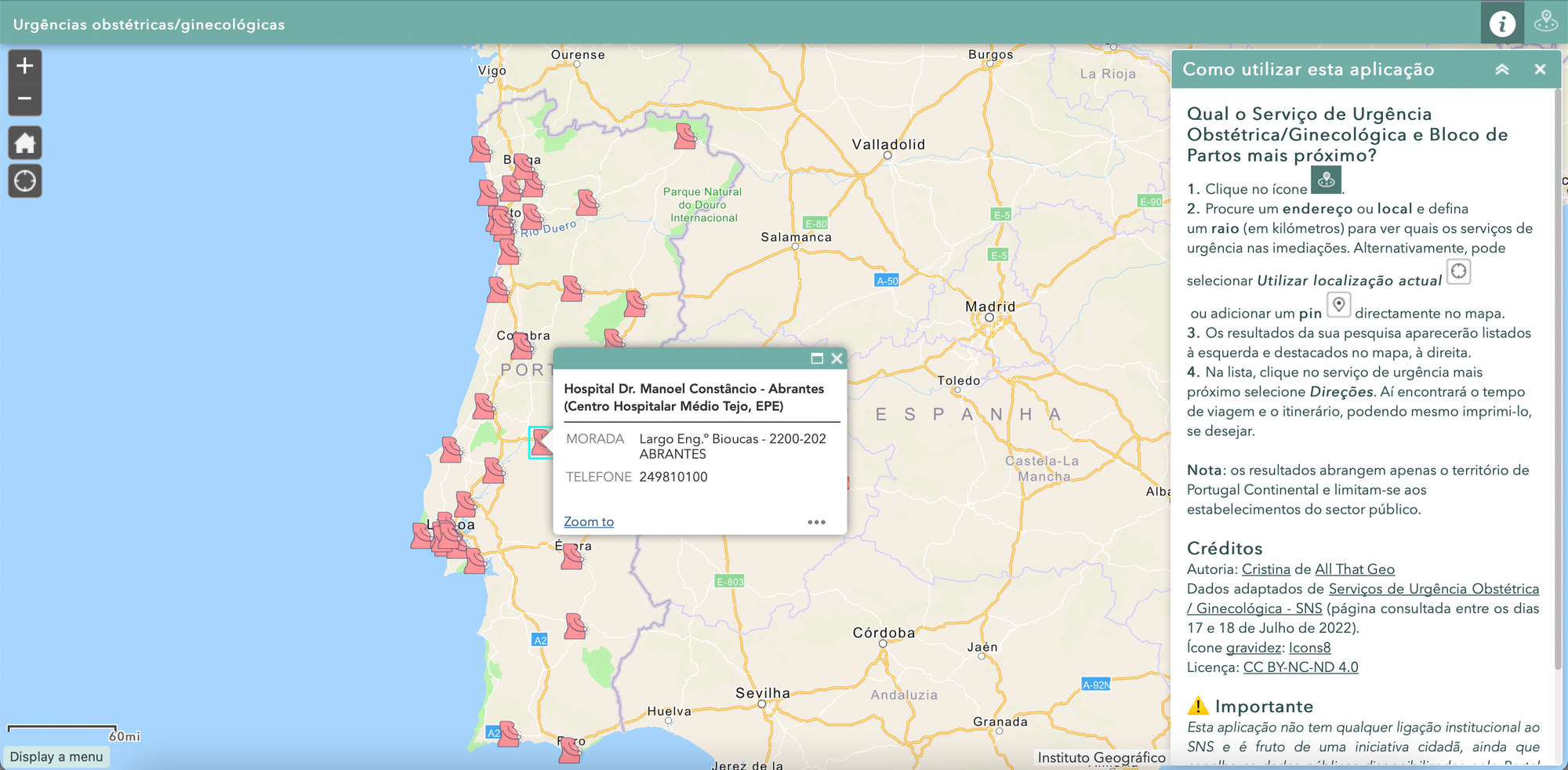 🤔 But Cristina, I am not pregnant… so why even check out this tutorial?
You have a list of locations (it can be anything, really: retail stores, social services, leisure facilities), and your users wish to find the nearest one, wherever they are.
You want to provide directions to locations in a focused way, without the noise of Google Maps.
You must improve visibility and access to your community's public services and infrastructures in a map-centric way.
🩺 Is Health a topic of interest to you?
Check out the online course Introduction to Geographic Information Systems for Public Health - an open-source approach.
And as a member of this mailing list, you get an exclusive discount - available until August 5, 2022!
---
💌
I rely heavily on word-of-mouth for growth
, so if you enjoyed the content, I'd love it if you could share it with someone in your life. Just forward this e-mail or copy
this link
. Thank you 🙂
See you next month!
Take care and keep learning,
P.S. Missed the last newsletter? I wrote about How to find areas that match a set of demographic variables and produce infographics. Read it here.
---
Was it useful? Help me to improve!
With your feedback, I can improve this newsletter. Click on a link to vote: